Rooted Magic Character Meiker
Rooted Magic Character Meiker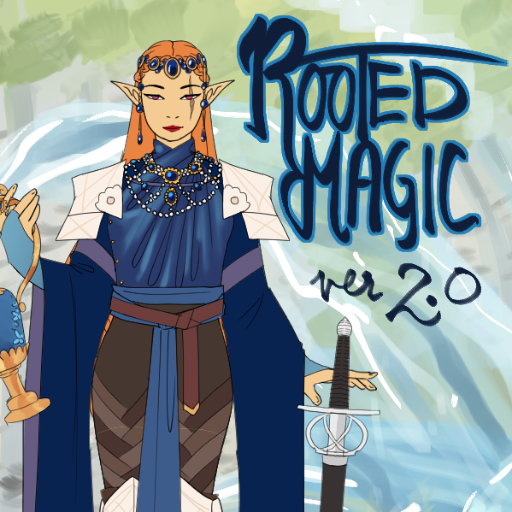 2023/03/09: UPDATE 01.
Hi! This took a stupid amount of time. Here's what's new:
- a proper lore primer
- 5 new overdresses
- one new shirt and many new pants and boots
- a whole armor section!
- a whole gloves section!
- new handhelds, including levels of magic!
- new headgear!
- one whole background + fix to the River so it doesn't wet the hems of your beautiful dresses.
There's also been some layering adjustments but minor clippings remain unfixed because I'm lazy. Maybe next time.
2022/11/23: Initial release.
Step into a classic fantasy world where the seas are vast, political intrugue is rampant, and magic is inherited. Take yourself through most of the Mainland via their fashion of richly dyed and layered dresses, or travel on a boat to the Empire of Varatha to partake in unique skirts and vests. Top off your look with glittering jewelry and items, weapons, and arcane manifestations to showcase your power.
Well gee golly this took a while. Not only does this game have a lot of update space, but I will be making a male counterpart to it that's going to be hopefully equally as developed when I'm done with these two. Enjoy~
TBA: More clothes as a whole but in particular more of the southern continent stuff, more pants and tops. Alchemist things. More backgrounds.
Post your creations and suggestions to:
my Twitter @consort_masami
my Tumblr @zecchou
or the Discord Meiker server <3
Tags: female original dress-up-game fantasy historical
Derivative works permissions:
Comments