Mewse Designer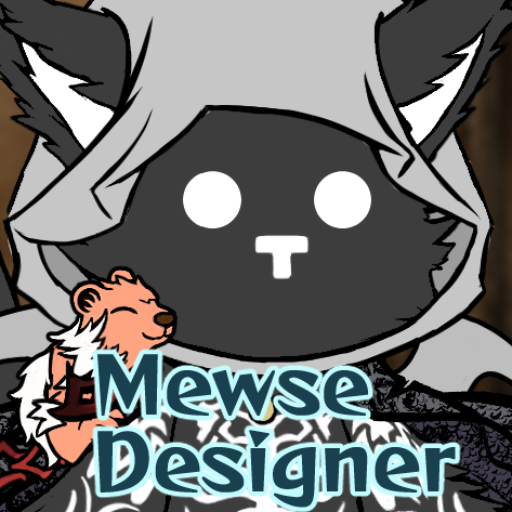 Let's design your own cat stuff animal! Inspired by various games such as The World Ends With You and NEO: The World Ends with You by Square Enix.
You're allowed to make OCs, use as an icon, etc! Do NOT sell characters made with this, for real or virtual currencies. You're allowed to edit images made with this, but you cannot cover up or remove my watermark!
Tumblr: @gramophoneturtle / Twitter: @gramophoneturtl
V5 (2022-08-21)
- Face markings and Tattoos into one category
- Hoodies organized as color picker options
- New coat/cardigan category
- Secret Box in Psychs for now
- Various new color options and items
V4.0 (2022-07-03)
- More accessory color pickers
- Separated Uzuki's tie from Makoto's
- Heart Eyes and Sparkle Stamp
- Fret's cap (tail) and necklace
- Friends are more expressive
V3.1 (2022-06-13)
- Fixed allowing blank background again
- Made angrier eyes more evidently angry
V3 (2022-06-12)
- New color picker options for body, tail and some accessories
- Can mix body and tail types
- Torn Mew body is a toggle under tattoos
- New aura category
V2 (2022-05-24)
- Many head and ear related accessories added
- Some items rearranged into new categories like "tattoos"
- New backgrounds and accessories in general
- Made it wider and taller to make it easier to use on mobile and to see more of the backgrounds
V1 (2022-05-11)
- First public release
- Contains a wide variety of expressions and accessories for the arms, neck and head
Tags: mr-mew twewy the-world-ends-with-you ntwewy neo-the-world-ends-with-you neo-twewy dress-up-game avatar-maker animals anime
Derivative works permissions:
Comments