Andro Princx Creator [version 1.5]
Andro Princx Creator [version 1.5]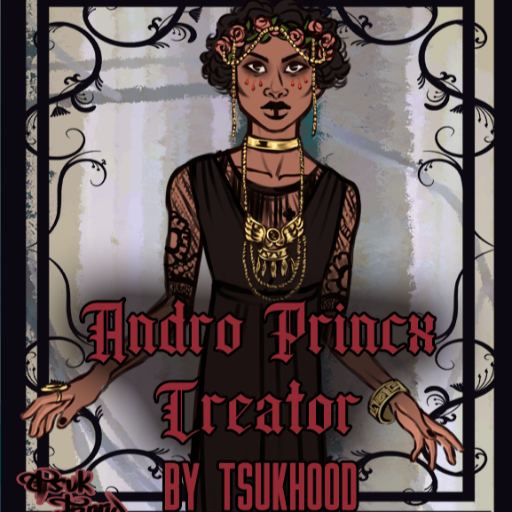 VS 1.5: protective styles [box braids and locs, loose and tied back], hearing aids in 5 swatches, walking canes in 5 swatches, eyeliner pack in 4 swatches, vampire fangs, Siouxsie Sioux makeup kit, 3 headcover sets in 5+swatches
Some info about gameplay:
-Most categories permit you to mix-and-match inside them. That means you need to click each item icon to get rid of it-otherwise you'll end up putting the entire category on the doll!
-If an item has multiple swatches of one colour, that means that colour is the dominant one but details will be different, it's not repeated!
Create a princelike gender non-conforming character in a dark and elegant palette.
Choose between the timeless flowy drapes of Ancient Greek inspiration, the edginess of post punk culture and the striking shapes of designs based on the universe of high fashion.
Mix and match dresses, harnesses, coats and accessories in black, white, red, silver and gold.
Adorn your character in outrageous loads of gold and silver jewelry.
Finish your creation putting your character in whimsical and mysterious backgrounds.
For more art visit @tsukhood in Instagram/Twitter/Facebook/Tumblr
Have a nice adventure. ♥
Tags: androgynous royalty haute-couture lgbtq boy girl alternative villain nonbinary drag-queen dress-up-game goth modern-fashion male
Derivative works permissions:
Comments
rosie-river-darlin Oh this game is just perfect! I've been binge watching old 80s sci-fi and fantasy movies and concept art and I've been dying to create ocs with the same GNC style
tsukhood omg thank you!! yeah, i created this game for the same reason you liked it: i couldn't find 80's GNC dress-up games, so i took the matter to my own hands haha. i love what you're creating with it!