Cyber Character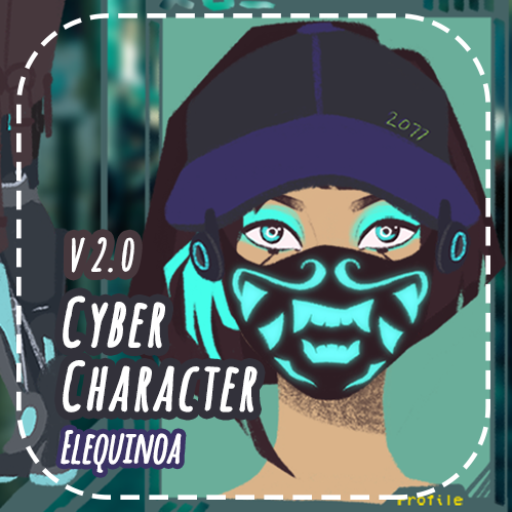 [12/09]: Initial release
[19/09]: Update with more clothes, colors, and more!
----------------------------------------
Design your own V from Cyberpunk 2077, give Commander Shepard a makeover, dress up like Leeloo, or borrow Takeshi Kovacs' backpack ;)
You can make a character sheet complete with full body, portrait, and written profile. But be careful of the nasty hackers and their glitches.... ;)
Feel free to edit the final picture to write in your own info. /!\ But don't remove my signature please!!!!!! And do not claim the art as yours. Thank you!
TAG ME @elequinoa when sharing on social media! :)
The font I used is called "VCR OSD Mono" on Dafont.com by Riciery Leal // Glitches by Macrovector on freepik.com // Pictures from Unsplash.com
As always, if you liked my work : ko-fi.com/elequinoa
And find all my links here: elequinoa.carrd.co
Enjoy :)
Tags: cyberpunk fashion scifi full-body portrait avatar mecha elequinoa dress-up-game science-fiction modern-fashion
Derivative works permissions:
Comments
uwuboytho Woaaaah this gameee!! im in love with these options!! I just love this Techno future Urban style <3 <3 <3