Fairytale Duet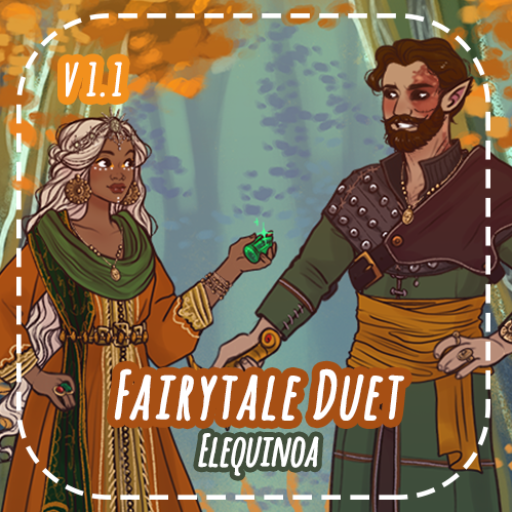 [19/06/2022] : Update with Elf ears and minor DA themed items
[20/03/2022] : Initial release
------------------------------------------------------------------------------
Once upon a time.... oh, looks like the rest has been burnt by a nasty dragon... Oops.
Up to you to decide what story you'll write today, by creating a pair of heroes ready to embark on a fabulous adventures in Fairytale Land!
Dress up a (not so) charming prince, ready to rescue a damsel (not so) in distress!
This game will let you customize not one but TWO characters from head to toe, with the option to get rid of the guy if your fair maiden would prefer to remain on her own...
Inspired by one of my favourite TV show ever, Galavant, which should have had six seasons and a movie. And more elements from various fairytale-ish media including The Witcher, Dragon Age, Merlin, Kirikou, and other classics.
Have fun with it :D
-------------------------------------------------------------------------
TAG ME @elequinoa when sharing on social media! :)
As always, if you liked my work : ko-fi.com/elequinoa
Where to find me: elequinoa.carrd.co
Enjoy :)
Tags: fairytale couple medieval princess prince king queen witch wizard viking elequinoa galavant dress-up-game fantasy male historical
Derivative works permissions:
Comments