Student Meiker (WIP)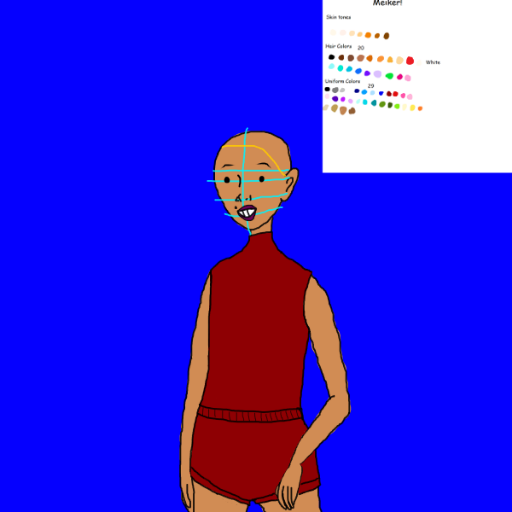 This is just a WIP for a school uniform themed dollmaker I've been working on the past two months. Please don't mind the crosshairs on the face and the color palette reference pic above. They'll be removed pretty soon.
For comments, feedback, critique, questions and general whatnots, you're free to keep in touch with me by either chatting up with me in the Meiker Discord, emailing me at [email protected] or by PMing me/dropping me an ask in one of my social media accounts:
DeviantArt: https://www.deviantart.com/milcahrawr
Tumblr: https://nepalsaysrawr.tumblr.com/
Update log (all dates are in Manila time; please keep an eye on this):
September 20, 2020 - Uploaded Student Meiker with the following items: 10 skin colors, 9 noses, 3 mouths (10 color options each), 10 eyes (10 color options each), 8 innerwear items (19 colors each), four skin stuff items, 2 backgrounds and 4 watermark options
Edit (21/09/2020): I forgot mentioning the eyebrows, which count to four
October 1, 2020 - Finally my first update to this game! No, it's not a bunch of new items, but a redrawn version of the first mouth because the original version felt a bit off. I think this version is more of an improvement on the original, albeit a little high.
Since school's been bombarding me with stuff I ought to be doing by now plus a dress up collab with a good friend of mine, so expect updates to be sparse.
December 21, 2020 - It's been more than two months since I last updated this game and I'm so proud to introduce to you a brand-new sock section, but there are some issues I need to address:
The transparent full stockings have their colors switched up, i.e., if you click on the white button, they become black. Aside from that, the full stockings seem to have hidden the most of the outlines of the lower left arm along with the lower long left sleeves found in some undergarments. Don't worry, I'll fix them up in a future update.
Tags: school uniform schooluniform students schoolboys schoolgirls genderneutral unisex allgenders charactermaker dollmaker wip dress-up-game modern-fashion
Derivative works permissions:
Comments