Little Lady Blackberry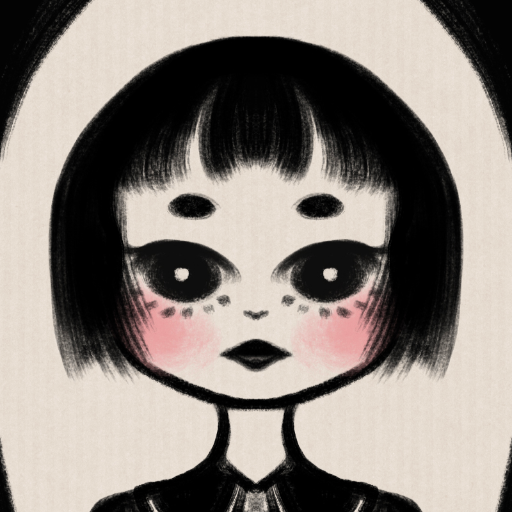 𝕷𝖎𝖙𝖙𝖑𝖊 𝕷𝖆𝖉𝖞 𝕭𝖑𝖆𝖈𝖐𝖇𝖊𝖗𝖗𝖞 - 𝙰 𝚖𝚢𝚜𝚝𝚎𝚛𝚒𝚘𝚞𝚜 𝚢𝚘𝚞𝚗𝚐 𝚐𝚒𝚛𝚕 𝚠𝚑𝚘 𝚑𝚒𝚍𝚎𝚜 𝚝𝚑𝚎 𝚜𝚎𝚌𝚛𝚎𝚝 𝚘𝚏 𝚝𝚑𝚎 𝚍𝚊𝚛𝚔𝚗𝚎𝚜𝚜.
"𝔾𝕒𝕞𝕖 𝔹𝕪 𝕃𝕚𝕥𝕥𝕝𝕖 𝕃𝕚𝕝𝕝𝕪"
Hello again everyone (●´ω`●) This is me your little lilly! I actually made this game right after my first one came out (Lady Blackberry), I am super excited to see my game finally get real on the website and love to see the feedback from you guys (•⊙ω⊙•) haha ~
(ノ◕ヮ◕)ノ*:・゚✧ For this game you will have more option on her hair style and make up. Since I feel like my previous one doesn't really have much things to play with, so this one please think about it as an improving version haha. Still, black and white pencil drawing art style, hope you guys like it. This one also has more dresses for you to select huhu.
Hope you guys enjoy the game, and send a 1,000 loves to the website!!! Meiker is very nuce and wonderful ʕ·ᴥ·ʔ
Thank you so much for playing the game,
Little-Lilly
-- The creator
(ノ◕ヮ◕)ノ*:・゚✧ Instagram : iamn.otexist ♥
~ Follow me hereee, I will try to post more of my art in the future heehee ♥
Tags: dark-fantasy gothic dark black-and-white little-lilly blackberry pencil mysterious scary horror girl vintage black-magic witch magic white-hair red-eyes portrait vampires sailor devil goth dress-up-game high-fantasy historical modern-fashion
Derivative works permissions:
Comments
little-lily (●´ω`●) Oh yes ~! Just in case you wanna follow me haha. Here is my Instagram ~ IG : iamn.otexist ♥ I forgot to put my contact on the game description haha. Sorry about that huu
uwuboytho oOmggg I loved this uwu :'3/ woah :'o <3 :'3!!! so cute my bro loved it too uwu/ <3 uwu