unicorn simulator 9000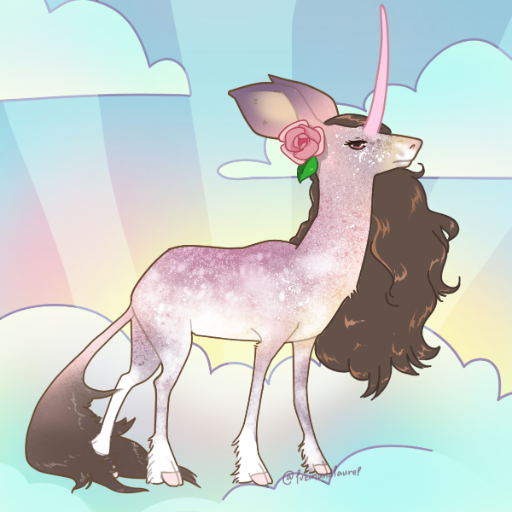 an extremely rudimentary unicorn builder. disclaimer: i have never seen a horse.
planned additions: additional hairstyles and colors, ear color, duns, socks, magic (???), flower crowns, forked kirin horn.
note: in some categories it's possible to select more than one marking, or to move the marking around. also, markings in the same category may overlap, and several markings exist which have 'warm' and 'cool' toned variants to match your unicorn better but are otherwise identical.
you can contact me at @luzonandlaurel on twitter for suggestions!
CHANGELOG
0.2: fixed coloring errors in grey and black base colors, added new horn colors, reworked leopard complex, added additional overo options, edited splashed whites, moved all face markings into the same category to reduce confusion, moved watermark location
0.3: fixed seafoam smooth horn error, added blushes and tail colors, added bay, added 2 hairstyles
0.4: added new bay variants, hoof colors, hoof patterns, tobiano, some sabino variations, roaning, and sooty/dappled.
0.5: reworked hair, fixed some coloring errors, added one new hairstyle, one new hair color, and some accessories. added one ear option; more to come!
0.6: reworked tail, fixed more coloring errors, added one new tail color (to match hair options), some accessories, new bgs drawn by me
to fix: movement allowance for most overo markings, coloring error in warm-toned sooty. i'm considering sizing down since the file takes so long to upload and keeps causing chrome to crash...
Tags: unicorn builder high-fantasy animals
Derivative works permissions:
Comments
Oops! The creator of this game has disabled comments.