AATAVEITH CHARACTER CREATOR
AATAVEITH CHARACTER CREATOR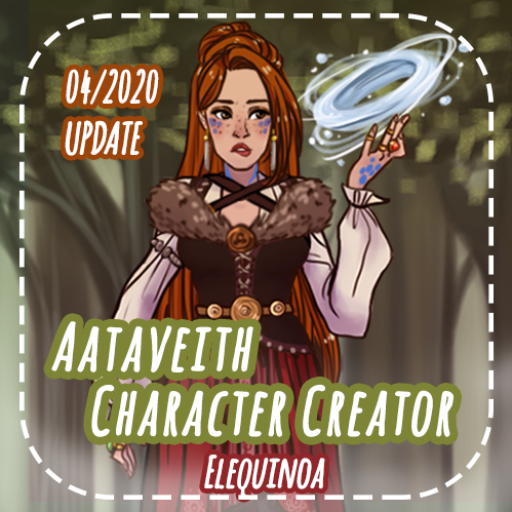 It takes a minute or two to load. Big game! :)
29/03/2020 UPDATE:
Small update because the thumbnail bothered me. I've tried to fix the skins categories, but I'll probably have to find another way to make those ears work.
(ps: i couln't test the game before uploading so I hope everything is working fine...)
---
Aataveith is the name of the fantasy universe I've created. It's a graphic novel, still a work in progress. Story is written, now onto drawing! You can find more about my work on my DeviantArt.
Do not hesitate to contact me for more info, or if you have any comment. Or just to tell me you liked my work :)
You can find my work on instagram, tumblr and deviantart:
instagram.com/elequinoa
elequinoa.tumblr.com
deviantart.com/elequinoa
elequinoa.carrd.co
HAVE FUN :)
(and please credit Meiker.io and @elequinoa when sharing, thank you ^-^ )
Tags: fantasy princess warrior rogue mage medieval work-in-progress elequinoa aataveith dress-up-game high-fantasy
Derivative works permissions:
Comments