Tanksona Maker v1.0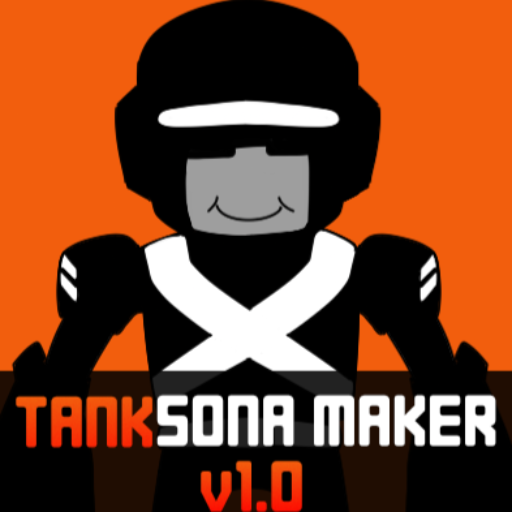 CW for Meiker users: Any research into Newgrounds will be inevitably met with saucy and/or edgy humor. Google at your own discretion, and be prepared for the internet culture shock.
Ever since I joined Meiker, I've been looking for ways to create synergy between it and other creative platforms I have strong faith in. What better way to do this than to invite artists from those places to collab with me on Meiker games? Newgrounds in particular is coming up on Pico Day, when users celebrate the site, its history, and what makes it special. Lately there's been hype around creating fan characters for the Tankmen series, and RavioliBox (on NG as well as a few other sites) has been drawing a lot of great artwork of other people's creations, so I came up with the idea to make a character creator game on that same theme!
Currently it's very bare-bones, with only the parts needed to create the main canon characters and a few variations. More updates will be on the way shortly, and we can start getting into proper OC territory pretty soon!
Also, shoutout to Filiprb on Newgrounds for creating a font fashioned after the site's logo, used in this game!
Rules:
Please don't use my games to make a point. Diverse characters are welcome, but I draw the line at directly or allegorically referring to real-world debate topics and ideologies. Thank you for respecting me.
~~~~
Please use this game with care and not as a means to harass people in any capacity, including in the contexts of parody, criticism, and activism/calling people out in general.
~~~~
Give credit to my account and RavioliBox on Newgrounds if you post images from this game outside of Meiker. You can use these to help you design things for commercial projects, but don't sell or claim the images or designs that are straight from the game. Also, remember to follow the rules of the sites you post the images on!
~~~~
Editing the image in an external program is fine, but the creation and use of the edited images must still follow these rules. To be clear, you may take credit for the edits you made, but I still count the edited image as partially belonging to myself and RavioliBox because it was made in our game, with her art.
Thank you for showing respect towards me by reading and following the rules! There's no music recommendation for this game as of yet!
Update 6/13/22: Another quick update by me, Will, while Ravi works on drawing more parts. I've increased the number of skin colors in the game from just 3, so now you have a full range to choose from! Also added vitiligo as well, especially because I remember someone's Tanksona having it and I wanted to include that.
Edit 3/20/23: OOP! That update I promised should be there now! I don't know why it didn't make it into the game!
Tags: tankmen newgrounds apocalyptic warzone armor oc-maker friday-night-funkin ng fnf avatar-maker male science-fiction
Derivative works permissions:
Comments
Oops! The creator of this game has disabled comments.